Dinner for the Northeast Rowe Regional Conference will take place at the Alpha Rho Lodge and begin at 6:30 p.m.
Please dress in business casual attire for dinner. There will be a reception from 6:30-7:30 p.m., followed by a buffet dinner.
We are excited to present our dinner speaker at the Northeast Rowe Regional Conference: Bill Royce, P '78, NΔ '02, PΔ '14!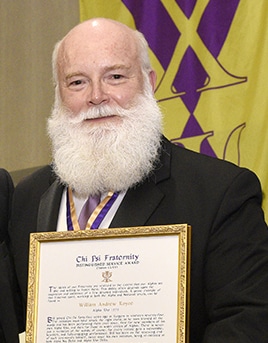 Since graduating from Rutgers, Brother Royce has been a pillar of Alpha Rho — which is proudly called "Rutgers' Finest Address." Currently, he serves as the Vice President/Alumni Affairs of The Alpha Rho Alumni Association, a position he's held since Alpha Rho's re-founding. Our 182-year-old Ritual is Brother Royce's passion as he's personally initiated half of all living Alpha Rho Brothers serving as Arcos Protos at every initiation since 1978 — as well as initiating Brothers at many other Alphas. In 2019 Brother Royce received a DSA, joining eleven other Brothers in Alpha Rho's 144-year history who were similarly honored. For most of his professional career, Brother Royce worked in advertising but he's most proud of his 40-year career at Macy's. Each Thanksgiving more than 70 million people see Brother Royce at the end of the Macy's parade — but underneath his red-and-white suit — we know that his heart beats purple and gold!
To attend the Northeast Rowe Regional Conference dinner, please register with the form below by Mar. 2. NOTE: If you plan to participate in the day's programming prior to dinner, visit this event link and register for that separately. There is no cost to attend either portion.
Rowe Regional Conference 2023: Northeast (DINNER)