The men of Alpha Chi are planning a long-overdue reunion for the end of January 2022. A group of Brothers, family, and friends are planning to meet in Palm Springs from Thurs., Jan. 27-Sun., Jan. 30. We hope you'll consider joining us to reconnect with old friends, connect with new friends, and leave refreshed and energized. To indicate interest, please fill out the form at the bottom of this page. To secure your deposit, read the section on payment below. Details of what we have planned are also included below. Please share widely with Brothers, friends, and family!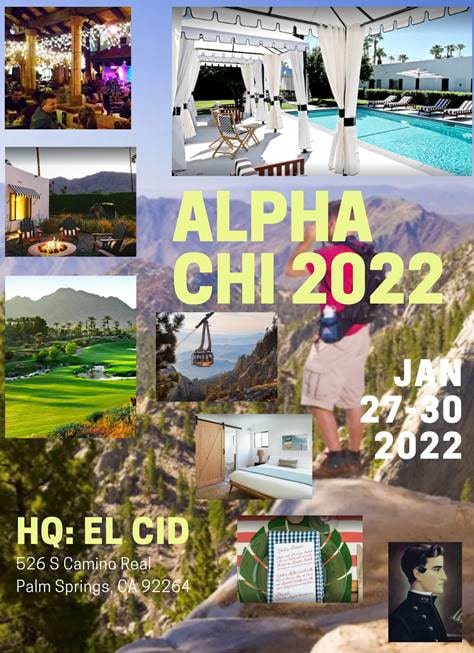 Note: The main lodging we've reserved is now booked full, so we ask all Brothers and guests planning to join the trip to please handle your own accommodations as near to El Cid (526 S. Camino Real in Palm Springs) as possible, and plan to join us for social activities and meals. The cost of the entire weekend, besides your own travel and lodging, is $399/person.
Nearby lodging options:
Social activities planned:
Thursday Poolside Welcome Reception
Friday morning Golf Tournament, organized by Evan Wollen, '94 (up to 16 players, tee time around 8:30 or 9:00 a.m.)
Saturday "Tom Jones"-style lobster and steak dinner (presentation of Chuck O'Boyle Alumni Trophy)
Tennis, hiking, and more!
At the main location (available to all):
Unlimited "headquarters" clubhouse and pool privileges
Classic and vintage games (Pac Man, Pong Table, Pinball, etc.)
Stocked bar and kitchen (snacks, beer, wine, soft drinks, mixers, light meals)
Payment information:
Place your deposit for the trip by Venmo or check to Chris Welton, '96. You can Venmo Brother Welton at @Christopher-Welton-3. Please reference "Alpha Chi 2022" in the message. If you prefer the check option, email Brother Welton ASAP and he will send instructions. Deposits are 100% refundable until Nov. 26, 2021 (60 days before the event begins).
FAQ:
Can spouses and family come?

Yes! The more, the merrier!
What about "Friends of the Lodge?"

Yes, this is open to all. Feel free to invite your friends. We'd love to see them!
Can I stay longer?

Yes, though you will need to make your own lodging arrangements outside of the weekend. A number of Brothers are planning to make a week of it with friends and family.
What if COVID locks things down?

We have refunds available as per above and we are working with the venue to clarify in the event of lockdowns - let Brother Welton (christopher.welton@nm.com) know if you have any questions.
What is the weather like in Palm Springs in January?

January is a beautiful month to visit Palm Springs. The average morning temperature is 44F. The sun rises at 6:50 a.m. By mid-day, the temperature averages around 65-70F.
What can I do to help make this event *amazing*?

Spread the word! Text, call, or email the three Brothers and friends of the Lodge you would most want to meet up with in Palm Springs. Tell them about this trip and how much you'd like to see them live and in person.
What's the game plan? How scheduled is everything?

As much or as little as you want to make it. You design your own experience. The itinerary below has ample opportunity for both structured and unstructured hangout time.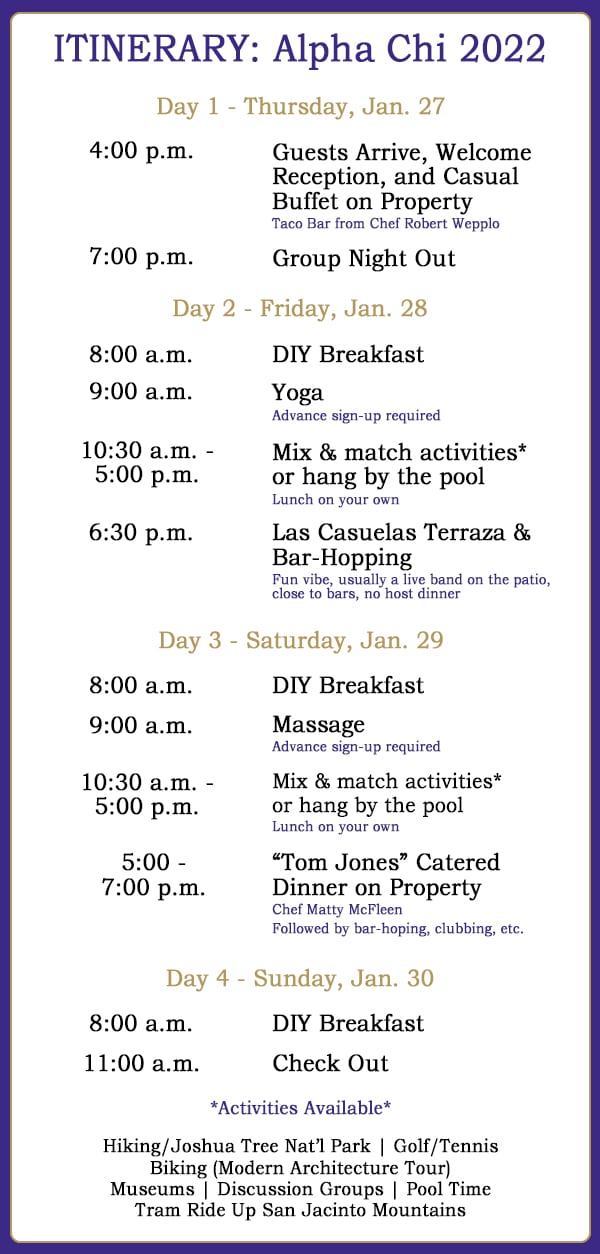 Interest Form: Alpha Chi Palm Springs Reunion (2022)
Include how many people and ALL full names!