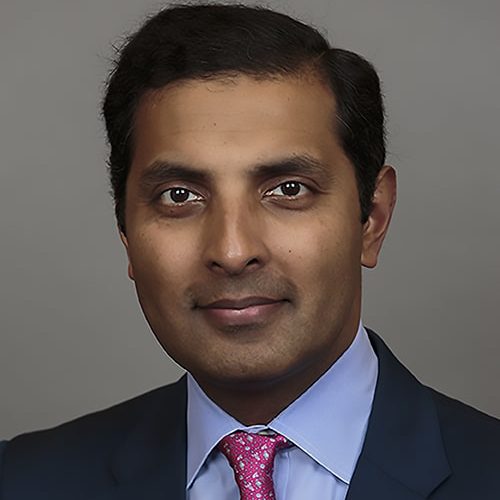 V. Seenu Reddy, X '90, Educational Trust Trustee
Seenu did his undergraduate work at Amherst College, graduating magna cum laude, and obtained his Medical Degree with Honors from The University of Alabama. He completed a residency in General Surgery and a Research Fellowship in Cardiac Surgery at Vanderbilt University. His Cardiothoracic training was at Emory University in Atlanta, GA, where he obtained additional expertise in Endovascular and Minimally Invasive Surgery. Dr. Reddy also obtained an MBA with Honors from Vanderbilt University Owen School of Management in 2000. He joined The Educational Trust in 2020.
He was previously on the faculty of the University of TX San Antonio as Dir. of Emerging Technology, Dir. of Thoracic Aortic Surgery, and Associate Prof of Surgery. He is Board Certified in Surgery and Thoracic Surgery. In the community, Dr. Reddy is active with the American Heart Association, serves as the current Board Chair and Past President and of the Nashville Academy of Med, and is a past President of the Nashville Surgical Society. He also serves his specialty through Task Forces in the Southern Thoracic Surgical Association, and Society of Thoracic Surgeons and the American Association of Thoracic Surgery. He has previously served as Clinical Associate Professor of Surgery at Vanderbilt and continues to serve on the faculty for their Perfusion School. He is a Fellow in the American College of Surgeons and American College of Cardiology. Dr. Reddy is actively engaged in research and has over 12 book chapters, over 20 abstracts, and 35 publications in peer-reviewed journals and has presented at regional and national meetings.  He is also a reviewer for The Annals of Thoracic Surgery and JTCVS. He is a consultant to a variety of startup health care companies and works with Harpeth Capital and FCA Venture Partners in Nashville. At TriStar Centennial, he serves as co-Director of the Structural Heart Program and Director of Cardiac Surgical Outreach and serves on the Medical Executive Committee. He is a National Medical Director for HCA's Cardiovascular Service Line. Dr. Reddy is married and has two children and enjoys boating, hiking and golf.