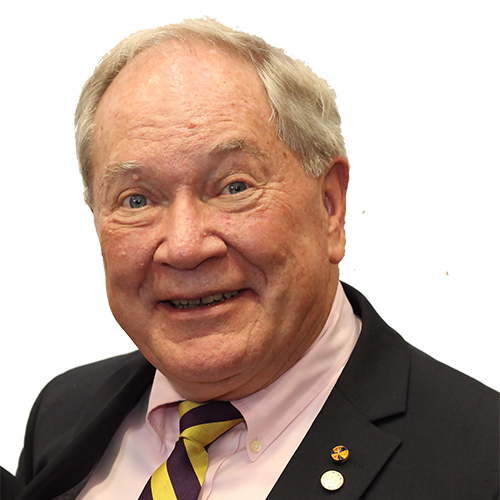 W.S. "Bill" Hattendorf, Jr., AΔ '69, Σ '82, H '83, ZΔ '19, National President (#7), Chi Psi Historian
Bill comes from a three-generation Chi Psi family. Bill was #23 from 1978-1983, and has served as National Historian (#22), and was the Editor for The Purple and Gold for 17 years. He has also edited the 150th Catalogue and several editions of The Chi Psi Story. Bill has facilitated scores of Trust programs (PSD, AMR, etc.) and has initiated more than 3,000 Brothers at 25 Alphas.
He served on Chi Psi's Executive Council for three sets of terms – most recently 2001-2009 – and received Chi Psi's Distinguished Service Award #109 in 1992. After college, Bill toured South Vietnam and Cambodia with the U.S. Army's 75th Rangers (Company F), and his last months there were with the Division Band. He received the Bronze Star with Oak Leaf Cluster, Army Commendation Medal, and Air Medal. After Vietnam, he worked in retail management and survived three years of law school.
After working for the Central Office, Bill worked as an advancement officer at a number of schools and served on boards of the YMCA, Habitat for Humanity, and more. Bill is a licensed preacher, worship leader, and verger. He has also been a youth soccer coach, a cubmaster, a trombonist in symphony orchestra, and an advisor to WNMH-FM radio. His wife, Sheila Heffernon, is a professional musician, teacher, and conductor, and they have three children: Wesley, E '08, Kelsey, and Spencer, and two grandkids (so far). Bill's dad was Will Hattendorf, ZΔ '38. Bill was introduced as Chi Psi's National President (#7) at the 178th Annual Convention in July of 2019.