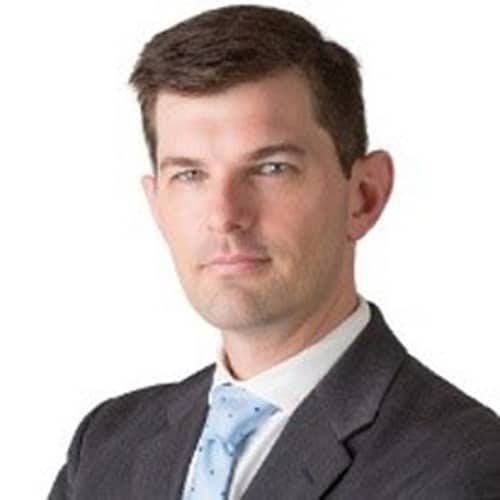 James A. Haltom, Σ '03, Executive Council Member
James is originally from North Carolina and now resides in Nashville, TN with his wife, Claire, and their newborn son. James has been active with Chi Psi since his undergraduate days at the University of North Carolina at Chapel Hill. As an alumnus, he has served on the Executive Council since 2013, including two terms as Chairman of the Executive Council. He also served as the Convention Committee Chairman for the 178th Annual Convention. James brings a strong commitment to the Executive Council to build the Chi Psi legacy through diversity and inclusiveness.
Following graduation from UNC, James served as a public school teacher with the Teach for America program in rural Mississippi. From 2004-2006, James was called into active duty military service in support of Operation Iraqi Freedom, where he served as a combat platoon leader. He received the Combat Action Badge, among other awards, for his service. James continues to serve as a reserve military officer in the Tennessee Army National Guard, holding the rank of Major. Following his active military service, he graduated with honors from the University of Mississippi School of Law, where he served as President of the Law School Student Body. Thereafter, he commenced his legal practice in Nashville, most recently as a partner in a national law firm, before being appointed to a judicial position.
In the community, James has several business investments in the food and beverage industry and has served as a board member for various civic and professional organizations, including the Better Business Bureau (BBB) of Middle Tennessee, the Andrew Jackson Foundation, and Operation Stand Down Tennessee. James has been honored by the Nashville Business Journal as "40 Under 40," a Mid-South "Super Lawyers Rising Star," and is a recipient of the President's Award from the Nashville Bar Association for pro bono services to military veterans.